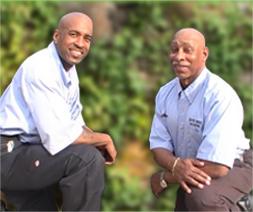 Get Better Pest Control Service by Shopping Local
No house is immune to pesky and unwanted pests in your home – this could mean mice, bedbugs, cockroaches, termites, ants, or even snakes and bees. If have a pest problem, or suspect you have one, you need a quick solution. MTB Pest Control Company provides fast and effective solutions to all types of pesky pest problems, both interior and exterior. This family owned and operated business cares about helping you find the solution that will work for you, your home and your budget!
CALL NOW – (301) 613-6570
The owners Milton Brown Jr. and son Milton Brown III have combined over 50 years' experience in both residential and commercial pest control. MTB Pest Control Company is licensed, insured, and certified in Maryland, D.C. and Virginia. All chemicals we use are EPA-approved and safe for your family and pets alike. MTB will work hard to solve all your pest problems and customer satisfaction is guaranteed!
We work 24 hours a day, 7 days a week- even holidays. You are under no obligation to use our services if you get a quote from us, but we'd be surprised if you found a better deal or a better company. Before you go with a national brand that has no stake in the community, call MTB. We care about you!
Annual Services
Ant Control
Bat Removal
Bed Bug Control
Bee Control
Bi-Monthly Services
Bird Control
Breeding Site Treatments
Dairy Barns
Fire Ant Control
Flea & Tick Treatments
Fly Control
Fogging
Free Estimates
Fumigation
Gnat Control
Gopher Control
Harborage Areas
Hog & Horse Farms
Household Pest Control
Insect & Disease Control
lnsect Damage Repair
Inspections, Letters & Reports
Inspections
Integrated Pest Management
Liquid Treatments
Long Term Termite Control
Mice, Rat & Mole Control
Monthly Services
Mosquito Control
One-Time Services
Organic Pest Control
Outdoor Pest Control
Pest Control
Pest Exclusion
Prevention Treatments
Quarterly Services
Reptile Control
Roach Control
Same Day Service
Special Events
Spider Control
Squirrel Control
Swimming Pools
Termite Bailing
Termite Certificates & Inspections
Termite Damage Protection Plan
Trapping
Wall Injections
Wasp Control & Removal
Rest Easy Tonight
We'll get rid of your pests safely, effectively, and immediately.
CALL NOW – (301) 613-6570